The Ben Carlson Foundation
22nd Street Pizza is proud to honor our local hero by supporting the Ben Carlson Foundation. When you purchase the Lifeguard Pizza, 22nd Street Pizza will donate $2 to the Ben Carlson Foundation. In doing so, the Foundation's mission of providing scholarships and supporting water safety can continue to positively impact our community.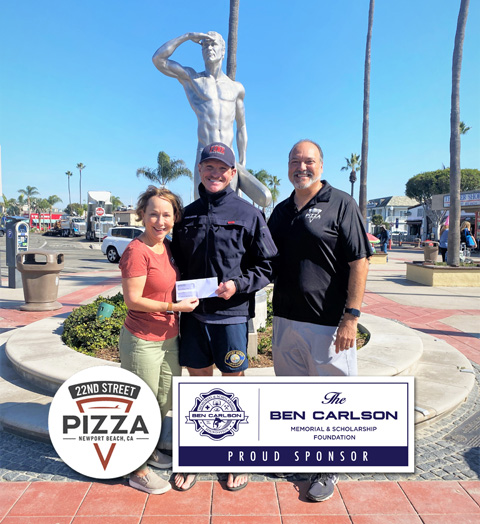 Learn about Ben
"It occurred at the end of a busy 4th of July weekend that was marked by warm conditions, abnormally large and turbulent surf, and giant crowds. Newport Beach Lifeguards made 562 rescues that holiday weekend. Many of those were dramatic lifesaving events that resulted in relieved and reunited families, but the next rescue would not. At 5:15 pm, Newport Beach Lifeguards Ben Carlson and Gary Conwell were patrolling beyond the large surf in a NBLG rescue boat when they spotted a distressed swimmer. Ben jumped from the boat and after a long swim made contact with the man. As they began to make their way back out to the rescue boat, both were hit by a large wave and taken over the falls.
The distressed swimmer made it to the surface and was rescued, but Ben was missing. A 3 hour search ensued that included members from 7 agencies including Newport Beach Lifeguards, Fire, Police, Orange County Sheriff's Harbor Patrol, Huntington Beach Lifeguards, Laguna Beach Lifeguards and State Parks. Ben was eventually located more than a half a mile away from the original rescue location at 8 pm and was transported by Newport Beach Paramedics to the hospital where he was pronounced deceased. He was the first and only Newport Beach Lifeguard to die in the line of duty since the service was formed in 1923.
Ben had just turned 32 and had proudly served as a Newport Beach Lifeguard for over 15 years. He was a lover of the ocean and an accomplished and dedicated waterman having surfed big waves around the world and explored the beaches on distant shores. Ben was a Division 1 Collegiate water polo player at UC Irvine and a strong, competitive swimmer. He gained his love and appreciation of the water from his family who introduced him to the ocean during a lifetime of beach-going, surfing and sailing. The statue of Ben was gifted to the City of Newport Beach by the Ben Carlson Memorial & Scholarship Foundation, a group of family, fellow lifeguards and friends who all loved Ben. The funds were provided by many incredible individuals and organizations, some of whom are listed on the plaques surrounding the memorial. The Foundation continues to operate in Ben's name, providing annual scholarships, serving under-resourced children and most importantly working to develop and improve systems to protect lifeguards and the public from a wonderful, but non-forgiving ocean."