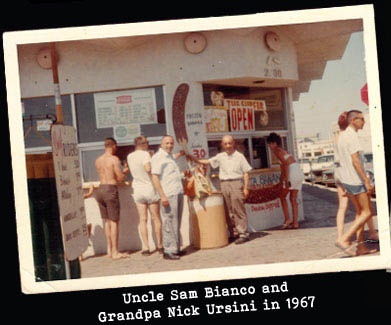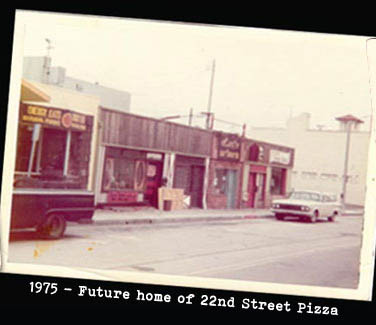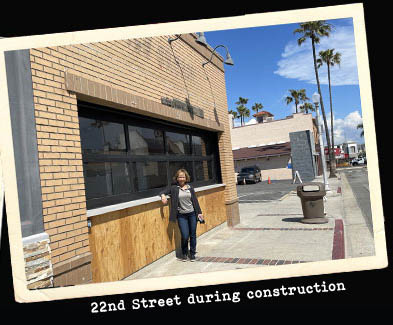 The Story of 22nd Street Pizza
In the early 1900's, at the age of 16, the very adventurous and brave Nick Ursini immigrated from Bari, Italy and landed at Ellis Island. Heading west to meet cousins in Seattle, Nick made it as far as Chicago. It was there that he met his wife Mary and they had four children.
In 1959 Nick and his family completed the westward journey started 30 years earlier, landing in Whittier, California. Being a man who loves good food, Nick heard that he could get some great fresh fish from the Doryman Fleet in Newport Beach. So he headed down Beach Boulevard to Coast Highway, and while there, came across a "For Sale" sign on a building at 2200 West Oceanfront. Nick, a man of swift action, bought not only the property, but the business inside of it too, for $55,000 (a lot of money in those days!) It was 1963, and Nick opened a hamburger and ice cream shop in that space and named it "The Surfer". Four years later, his son Francis "Fran" took over management of the operation while Fran's wife Karen was raising their two sons, John and David. Then daughter Laura came along, and she spent happy childhood days piling into the station wagon with her brothers to visit Dad at The Surfer, and hosting her birthday parties there.
Fast forward to 2012, and Laura and her husband Jerry Marroquin are now proprietors of 2200 West Oceanfront, running the popular North Shore Shave Ice shop in the space. But what Laura and Jerry really felt the Peninsula needed was a pizza restaurant. So in January 2021, they revamped the North Shore Shave Ice shop and 22nd Street Pizza was born (don't worry - you can still get shave ice at the Pipeline Snack Shack around the corner!) This restaurant carries on as a welcoming place to gather at the beach for good food and refreshment.
The 2200 West Oceanfront location has now seen many generations of the Ursini family, as Laura and Jerry's three kids have taken their turn working at North Shore Shave Ice and the other family business, Pipeline Snack Shack. With 22nd Street Pizza, this next generation is proud to carry on the legacy that their food-loving, Italian Grandpa Nick started decades ago in the city of Newport Beach. Laura and Jerry look forward to continuing to serve and feed this community of people who will always be considered part of the family.